At 16:35 on a Friday in February 2016 at the end of a working week, only a few weeks after his 32nd birthday, my son Alex was killed close to home in Oxford, by the kickback of a top-handled chainsaw.
After three years as an arborist in New Zealand, Alex had recently returned to the UK, was glad to be home and life was good. And just a few days previously he'd said that he was happiest when working up in trees.
Alex was known for safe working, was well-secured, weather and light conditions were good and the Health and Safety Executive's report to the Coroner on the chainsaw revealed nothing wrong.
However, the chainsaw cut through almost to his spine, severing the jugular vein and artery in the right of his neck, resulting in catastrophic blood loss and then heart failure. He dropped the saw and reached instinctively for his neck, but had no time even to cry out before slumping into his harness, unconscious. Within seconds, his aerial-rescue colleague was up the tree (un-roped) attempting to stem his blood.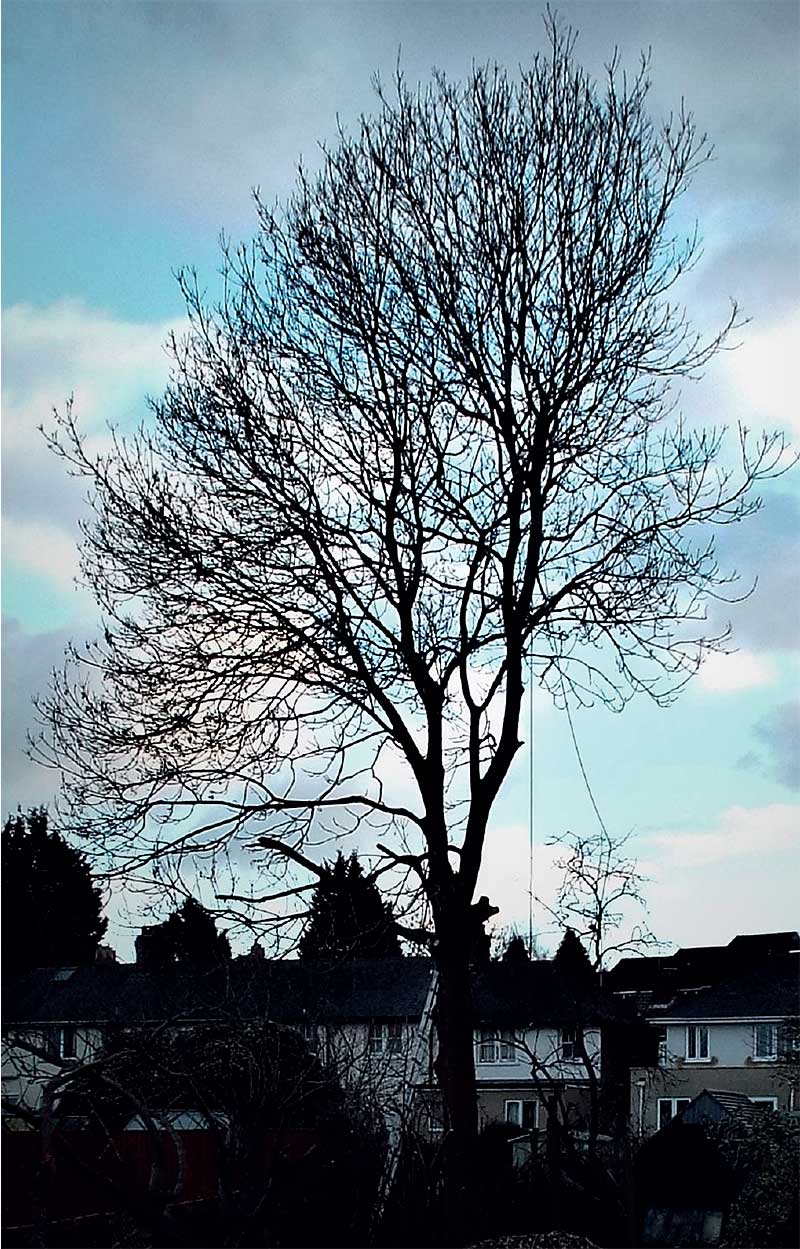 A free-climbing paramedic soon joined them but, without first lowering Alex 20ft to the ground, could do little except find a pulse. The ropes jammed, so had to be severed to drop him the last 5ft without further delay.
The autopsy later revealed that the cut ends of Alex's blood vessels had retracted – making both maintaining circulation and adequate fluid replenishment impossible.
This was not obvious immediately and, as he was young and fit, paramedics and hospital staff worked tirelessly to try to save him until he was certified dead at 18:30.
At the site next morning I was shocked by the amount of blood around the tree. His sister and her fiancé were similarly affected by the sight three days later. Both are doctors and recognised that survival of such a wound was impossible. Professionalism again took over when we went to identify his body and, amidst tears, they even checked the size of his wound.
They said that, even if Alex could have been saved, loss of blood to the right of his brain would have caused a stroke down his left side and a severance of nerves would have paralysed his right arm. That would have been a terrible future for any arborist keen on active outdoor life.
It took me some weeks to understand that Alex fell unconscious almost immediately, so thankfully could not have suffered. Messages of condolence conveyed what an inspiration Alex had been to many people both in UK and NZ so, even whilst grieving, his family and friends found much joy in how he had lived.
Alex was single, with no children. Tragically, just one year on, Greg Bulbec died in similar circumstances, at the same age, leaving a partner and child. My thoughts are with them.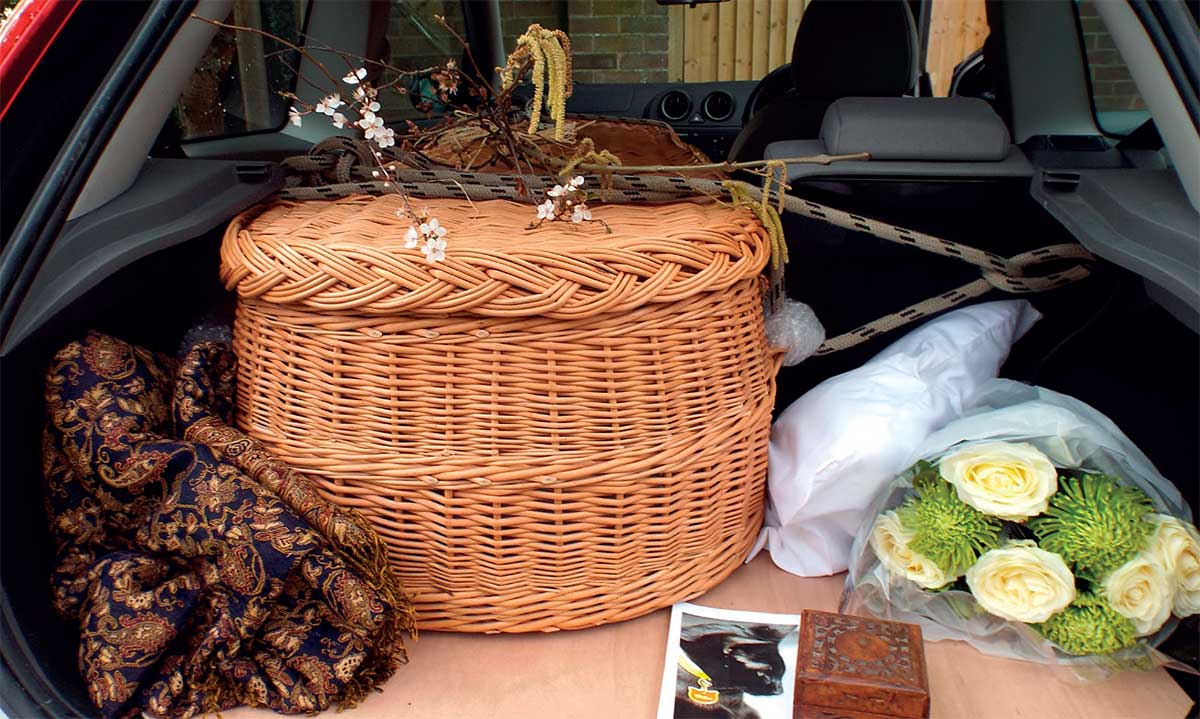 Alex held by his climbing rope for his only ride in the car I found for him
Alex was laid to rest, in woodland, by fellow arborists. And trees have now been planted or dedicated in his memory in many places. However, I would like his lasting legacy to be prevention of at least one death each year from kickback, although we can never know whose.
Aiming to reduce deaths from kickback might seem ambitious. However, it will be worth trying if this also results in far fewer crippling injuries and near-death experiences. We can do this through awareness-raising, training and further improvements in the design and use of top-handled chainsaws.
We should already be well on the way, as older equipment is gradually superseded or adapted to take advantage of recent improvements. Unfortunately, some of those developments, such as lightweighting, might have increased the risk of kickback by inadvertently overtaking current safety measures.
For example, the original standards for non-manual ('inertia') chain-brake operation were developed for rear-handled chainsaws, whereas none are written specifically for top-handled chainsaws which kick-back faster than the standards suit.
In comparison with rear-handled chainsaws, top-handled chainsaws are smaller, lighter, have a low moment of inertia (so kickback faster) and can be used in confined spaces much closer to the body.
When using a rear-handled chainsaw, especially with a locked left elbow, the force of kickback might knock you off your feet, but it should throw the machine in a wide arc above your head, giving the 'inertia' chain-brake plenty of time to operate.
The standard requires manual chainbrakes to stop the chain within 0.150 (3⁄20th) sec.
And while a non-manual 'inertia' chainbrake is triggered differently, it uses the same braking mechanism, so must take a similar time to stop.
Saw chains typically run at 45mph (66ft/s), so will cause kickback at about this speed.
For top-handled chainsaws, the designed 'hands together' position (one-handed or not) ensures that your grip cannot prevent it pivoting around your wrists during kickback. So the saw-tip MUST hit you, unless you adopt a safe working position.
At 66ft/s, with a 12-inch chain-bar, kickback tracing a small 3ft arc would reach your neck in about 0.050 (1⁄20th) sec.
If that happens, I can guarantee that you won't have seen kickback coming, because that's just half the human reaction time (as used by Highway Code braking tables).
And, even if fully compliant with chainbrake operating standards, the chainsaw could continue to cut through to your spine for a further 1 ⁄10th sec before the chain stops (longer if the functioning of the 'inertia' brake operation is not confirmed frequently, or the chainsaw is inadequately maintained).
If your chainsaw has a tip-guard, so cannot kickback, it might seem a bit less adaptable in use, but it would be much safer. If it doesn't have a tip-guard, never use a top-handled chainsaw while the chain bar is aligned with your body unless you are fully trained and alert to the imminent danger. Even then, your family might prefer you to consider using a hand-tool. I would.
8
---
Report Article