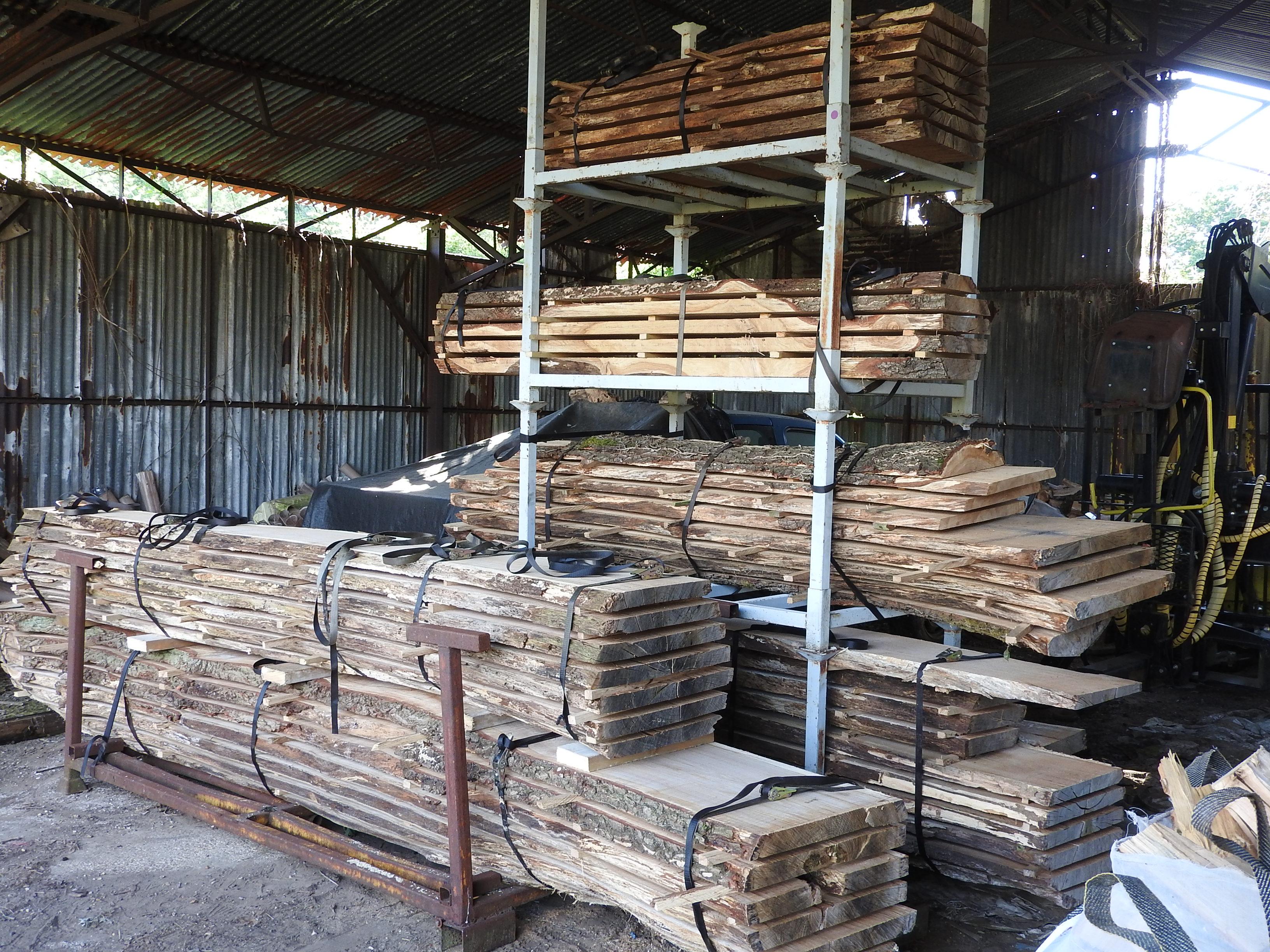 Content Count

365

Joined

Last visited
About 54gka
Rank

Senior Member, Raffle Sponsor 2014, 2015

Recent Profile Visitors
The recent visitors block is disabled and is not being shown to other users.
Made a start on milling some timber at the Arboretum in Romsey today. Getting some nice boards from this Oak. 10 ft long and just over 3 ft at the widest point x 3'' T.

This is what i had a local chap make for me. It's sat on an 8x4 bench and can fit around a 6ft x 34'' slab on it. Works very well. Have a 2'' planning bit fitted can be a bit slow but adds more value to the board showing off the grain and character more. If the board hasn't to much twist it takes no time at tall. Finish is so good that just needs a belt sander run over it. This was the first one that he had made and has made a few changes since. Slab is Beech 1670 and 26 at widest point. Just under an hour to flatten and sand. I find by doing this it helps to sell the larger slabs as most hobbyists don't have the equipment to do this. t2 sled8.mov

This is the set up i brought from Per at LOGOSOL . Once you get one end up on the first step it does make it easier to lift up on the log bed. I've just fitted a trailer winch to the top of a short accrow prop that works ok on the bigger lumps.

Cheers Khriss. I milled myself a 1'' thick slab for a piece of wall art. Looking forward to getting it out of the kiln in a months or so time. http://www.facebook.com/wowallthatwood

Out with the Panther milling up some stunning Yew.

I sell all my timber on my fb page. As above reaches hundreds of people get a few shares and a few followers. I can't fault it.

Good job and nice timber Kav

Nice bit of Yew coming off the mill today. Oh and an Elm crotch.

Hi yeah it can be a bit daunting to start with but the best guy to ask is Rob from Panther as i guess that's who your buying from. I think i read somewhere that the 880 might be to big to run a low pro setup i might be wrong. I run a low pro setup on the ms660 ok. All the best and enjoy. http://www.facebook.com/wowallthatwood

Yeah no probs Mark seen a guy cut loads on his 130. I cut all mine with the Alaskan and Farmers mill. love to have the HM 126 one day but storage is my problem. Let us know how you get on.

I use the Logosol sauno kiln. Built an 8x4x4ft box. Will dry 2'' t softwood in two three weeks. Hard wood 2'' t i have the temp right down and takes between six to eight weeks to get to around 10% mc. I to was looking at the heater dehumidifier fans system but just like the idea of keeping it simple with one unit plugged in. I can mill and load timber in the kiln the same day but Oak and Sweet Chestnut need to be air dried for six months due to the tannin. I brought the 2kw vt3 from Logosol and got some styrofoam online for the box and in total cost me around £1100.

The last Birch i milled that had some burrs on went nice a dark when oiled a bit like the Olive Ash you're milling. You're getting some nice boards.

Good handy mill to. Always using mine. I'm defo going to give it ago with the li saw. Be very handy back in the workshop as well.

This is my F1 setup i can see a few changes that may help the set up a bit easier. Great set up by the way.

Been using the Katsu one for the last year not missed a beat. Looks the same as the Logosol,Oregon machines but for a lot less.