"One of my favourite brands of warm outdoor gear for work or play"
PROs:
Quick drying
Does a great job of wicking away sweat
VERY warm
Extra long back stays tucked under harness
CONs:
Tendency to get thread picked on thorny material
Attracts sawdust
Pricier than other brands
What is the best cold weather clothing for tree surgeons?
After many years I think I might have found it, and it comes in the form of Woolpower, merino wool clothing manufactured in the north of Sweden. 
Naturally you'd expect the Swedes to know a thing or 2 about dressing warm so it shouldn't be any surprise that their range of clothing does exactly what its supposed to. But is it worth the price tag?
What price do you put on comfort?
Woolpower certainly isn't the cheapest clothing on the market by a long shot, in fact as far as working clothes go its probably right at the top end of the market before you venture into designer labels. I have paid varying amounts for winter clothing over the years and have tried many different base layers from well known brands such as Helly Hanson, Under Armour, and Musto, to more generic brands. Its fair to say that most will do the job well enough, with perhaps just a few extra layers needed here and there as a top up. Having said that, there are many that will just make you sweat more with their poor wicking ability, and we all know what that means when it comes to break time on a cold day. Sometimes you can get lucky with cheaper brands, but in my experience you usually get what you pay for, certainly when jumping up to the next tier in the pricing bracket.
WOOLPOWER ULLFROTTE ORIGINAL 200
I purchased my first Woolpower top around 10 years ago, opting at that time for their standard base layer the Ulfrotte Original 200 Turtle Neck. In my younger years I never really felt the cold too much and would usually get by in the winter with just a thin base layer and a t-shirt on top(after warming up of course). The Woolpower base layer was far warmer than anything I had worn before, in fact if would sometimes be too warm, specially in milder winters. But it really came into its own on crisp winter mornings, especially with the added wind chill factor.
This is a light base layer with a comfortable athletic fit which is well suited to our type of work. The Merino wool does a great job of wicking sweat, and also dries reasonably quickly thanks to the addition of the 25% polyester in its composition. It also retains body heat even when it is damp. 
Like many of the Woolpower range, the Ullfrotte Original 200 comes with a longer back. This really comes into its own when wearing a harness, as the base layer doesn't have the tendency to ride up like some others can.
My only real gripe is that the material is more likely to snag than a smoother polyester base layer. I would therefore prefer not to wear this if clambering through something like Hawthorn. Likewise an arm full of brash repeatedly might well reduce its longevity by leaving it somewhat thread-picked. Additionally, the material does have a habit of attracting sawdust. Not really the end of the world as most of us are already used to going home covered in it!
I have never been one for skimping on tools and I view work clothing as another tool. One could argue that they can just get a cheap base layer and use it for everything, and whilst that's true, its nice to have something a bit more luxurious to wear, and smarter looking too!
Theres one stand out feature that your other half will certainly appreciate. Due to the mostly Merino Wool composition and less polyester compared to many other brands, there's no more Smelly Helly syndrome. "A friend of mine" was known on occassion to wear his on consecutive days and still smell fresh at the end. 
WOOLPOWER ULLFROTTE ORIGINAL 400
This is my most recent purchase and although I'm no longer climbing trees, it is my go to top whenever out surveying or going on long dog walks with the family. Although Outwear's website lists this as a mid layer, I would personally describe the Ullfrotte Original 400 as a mid to top layer, for the UK at least. I personally wear this as a jacket (on dry days), or even for just lounging in the house rather than putting the heating on. 
For the most part this keeps me warm with just a t-shirt underneath. We haven't had too hard of a winter so far, although having said that we had our first lot of snow here in Suffolk today. With just a t-shirt and thin jumper underneath I was more than comfortable. Be careful though, add too may layers beneath this and you're going to start over heating pretty quick.
Like the 200, it has the longer back which really helps keep the wind out. The full zip keeps your neck warm, whilst being easy to unzip at any point to let some air in. A nice addition to this design is the roll down cuffs with thumb holes which are perfect for keeping your wrists warm whilst still allowing the use of your fingers for tasks that gloves would make more awkward. 
I would certainly avoid having these rolled down whilst doing physical work however, for some of the reasons mentioned earlier, but for surveying or just out walking its a nice little added luxury.
Its always a disappointment when this top has to go in the wash!
Woolpower Socks
Hard to get too excited about winter socks, nor could I find it in me to write a decent lengthy review on them, so I'm just going to sneak a paragraph into this review right here. Put your money in your wallet and buy them is all I can say. They aren't cheap, but nor are they going to break the bank either. I have 2 pairs that are 10 years old now. Admittedly I don't wear them a lot these days but still break them out occasionally.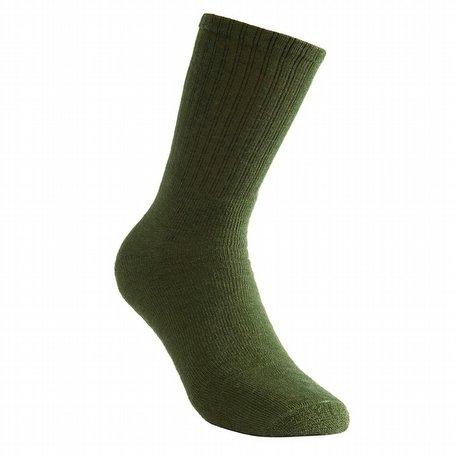 Only really one draw back with these, the sawdust does like to cling to them, and unless you have the patience to pick every spec out, a lot of this ends up getting chucked in the washing machine with the rest of your work clothes. I found wearing pair of Pfanners with the elastic gator clips helped minimise this to some extent.
Summary
The Woolpower range is top end winter clothing for arborists who don't mind spending the extra for some added comfort. If like me you are past your energetic 20's, you will know all too well how the cold can really make your joints stiffen up. The styles throughout the range are very 'arb' in my opinion, have a look of quality, and certainly make you look more presentable.
The performance of the merino wool over polyester alternatives is a game changer, and coupled with the overall style, fit, and comfort of the range, it has to be amongst one of my favourite brands of warm outdoor gear for work or play.
6
---
Report Review